IS IT JUST A COINCIDENCE that in one day I see:
A White Activist publishing a documentary that gives a new narrative on the events that head up to the shooting of Mike Brown in Ferguson
A White Progressive "Racial Studies" Professor Who Previously Wrote A Book On "Jewish Racial Pride During Reconstruction" now has a book on "STAND YOUR GROUND" , motivated from the Trayvon Martin shooting by George Zimmerman
Source
A HOLOGRAM OF MIKE BROWN WILL APPEAR AT THE SXSW 2017 PROGRESSIVE GATHERING
At no time does Caroline Light mention:
The George Zimmerman defense team NEVER USED "STAND YOUR GROUND" as their defense. ONLY left wing ARM CHAIR Journalists APPLIED 'Stand Your Ground' to this case
A MOLESTATION OF TIME AND SPACE
IN ONE C-SPAN INTERVIEW - SOPHIA NELSON LINKED "THE RIGHT TO DEFEND YOURSELF" WITH THE FEARS OF GOVERNMENT TYRANNY BY THE CREATORS OF THE CONSTITUTION
I just listened to a Progressive Nationalist Counterpoint that linked GUN OWNERSHIP TO WHITE SUPREMACY (And Then They Made The Case That "WE WHITE PEOPLE DON'T EVEN REALIZE OUR WHITE PRIVILEGE"
THE REASON WHY PROGRESSIVE FUNDAMENTALIST NATIONALISTS DO NOT TALK ABOUT THE SPIKES IN "BLACK HOMICIDE IS BECAUSE THEIR COMMENTARY ARE ONLY USED TO "ADVANCE PROGRESSIVE NATIONALISM".

When THEY DO talk about BLACK HOMICIDES they ALWAYS will talk about the RACIST, MARGINALIZED ECOSYSTEM that has been created by the larger WHITE SOCIETY and how THE LETTING OF 'NEGRO BLOOD' is an inevitable result of what they set up.
BLACK AMERICANS WILL BE FREE THE DAY THEY ASK IN REBUTTAL: '
SHOW US HOW OUR BLACK VALUABLES HARVESTED AND THEN INVESTED INTO BUILDING UP PROGRESSIVE NATIONALISM WILL ONE DAY HAVE OUR RATES OF HOMICIDE EQUAL TO WHITE FOLKS!!!!'
THE SAME FRAUD THAT COMPELS CON MEN LIKE TARIQ NASHEED IS THE VERY SAME FRAUD THAT MOTIVATES THE WHITE PROGRESSIVE CHESHIRE FOX ALLIES.
IT DOESN'T MATTER THAT THEY YIELD THAT "MOST PEOPLE ARE KILLED BY PEOPLE OF THEIR OWN RACE".
They focus on how INTERRACIAL CRIME always FAVORS WHITE PEOPLE when they are BOTH VICTIMS AND KILLERS.
ONLY YOU CAN DECIDE IF THIS IS MORE IMPORTANT THAN THE FACT THAT MORE BLACK PEOPLE ARE KILLED EACH YEAR AND THEIR KILLERS NEVER FOUND (Homicide Clearance Rate) Than WHITE PEOPLE WALKING FREE AFTER BEING FOUND 'NOT GUILTY' FOR KILLING A BLACK PERSON - WHEN THEY WERE CLEARLY GUILTY
THE NON-WHITE WHITE SUPREMACIST (Taqi
NOTE - Caroline Light has shifted from "Black Discrimination" to "White Male Defense of Honor" and is now talking about TRANSGENDERED people who suffered a hate crime. SHE NOTES that even in STATES THAT DO NOT HAVE "STAND YOUR GROUND LAWS" jurors are influenced by the "Castle Doctrine" NOW SHE IS TALKING ABOUT "Illegal Immigrants" Undocumented Immigrants and women who kill their abusive husbands but who are prosecuted UNLIKE A WHITE MALE who KILLS A STRANGER.
"I see this recurring fear that TRANSGENDER PEOPLE are going to THREATEN women's safety in bathrooms"
According To Caroline Light: A State Does Not NEED To Have A "Stand Your Ground Law" For Juries To Be Influenced By These Laws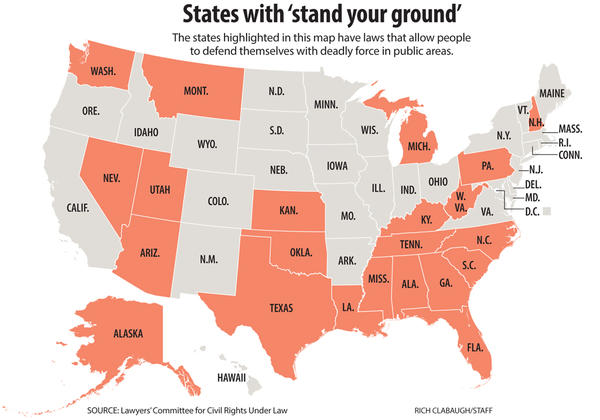 This dataset DOESN'T Bother To Enumerate The FREQUENCY Of These Inter-racial Shootings In Contrast With The INTRARACIAL SHOOTINGS (White People Are The SUPERIOR REFERENCE)