THE RISE OF THE NEW COLONIZER
All weekend long I have been tuning in and out of the "Spike TV" show "Bar Rescue".
It seems that "Spike" doesn't have many paid advertisers because every single commercial break featured the same self-promotion shows:
"Naked Dating" - since ENTERTAINMENT television must always push the edge in order to draw in viewers - people had to date in the nude.
"Lipsync" - LL Cool J and John Legends wife hosts a show about music battles
The point that must not be missed is that THE NEW COLONIZER make use of the very forces that they derided about the OLD COLONIZERS:
MONEY / EXORBITANT WEALTH
POWER
UNDUE/UNCHECKED INSTITUTIONAL INFLUENCE
The sight of the Obamas with "Oprah Winfrey", "Common", "Beyonce", "John Legend", "Janel Monae", "Katie Perry", "NAS" ONLY MEANS THAT THERE ARE NOT GOING TO BE ANY "ANTI-GOVERNMENT PROTESTS" Inside Or OUTSIDE Of The White House, regardless of what the US Government continues to do.
The blatant fraud and intellectual dishonesty of these people are stunning.
The truth is - I DO NOT BLAME THEM and THEY ARE NOT UNIQUE.
A Colonizer / "Container Master" always hires "Colonizing Field Agents" to maintain his holdings.
I have less fear that a PRESIDENT DONALD TRUMP WOULD BE ABLE TO DO MUCH WITHOUT BEING AGGRESSIVELY CHALLENGED , than I SAW WITH MY OWN EYES how the CORRUPT "CONTAINER MANAGERS" ran a GRAND DIVERSION SCHEME AS PRESIDENT OBAMA DID THINGS THAT THEY WOULD HAVE OTHERWISE PROTESTED AGAINST.
INSIDE OF THE CONTAINER OF AMERICA - Intellectually Fraudulent confidence men like John Legend CAN GET OFFENDED OVER "THE BLACK PRESIDENT" HAVING HIS CITIZENSHIP CONTESTED.
OUTSIDE OF THE CONTAINER OF AMERICA - where the CONFIDENCE MAN has traveled to COLLECT HIS MILLIONS - he has the CHOICE TO NOT GET OFFENDED, keeping his views about the LARGER MORE IMPORTANT ISSUES TO HIMSELF - because he doesn't want to DERAIL THE PROGRESSIVE FUNDAMENTALIST NATIONALIST AGENDA by defining "REST OF WORLD BLACK INTERESTS"
THE PROPER REBUTTAL FOR JOHN LEGEND'S "FAUX BLACK OFFENDEDNESS":
WHAT CAN THE US GOVERNMENT DO VIA A "BARACK OBAMA" / 'HILLARY CLINTON PRESIDENCY' THAT WOULD OFFEND YOUR "BLACKNESS" OVER YOUR "PROGRESSIVE FUNDAMENTALIST BIGOTRY"
YEARS AGO JOHN LEGEND COULD HAVE PLAYED A CONCERT IN THE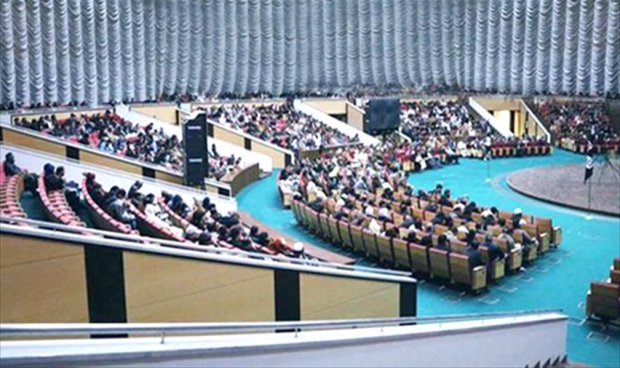 AFTER THE NATO COUP - THE FACILITY HAS BEEN DESTROYED