FOR THE PROGRESSIVE FUNDAMENTALIST ACTIVIST GROUP CALLED "THE SCHOTT FOUNDATION" - DESPITE LAYING CLAIM AS A "EDUCATIONAL ADVOCACY ORGANIZATION" - THEIR LAST SEVERAL ANNUAL REPORTS WHICH HAVE ADOPTED THE POPULAR PREVAILING "BLACK COLONIZATION MESSAGE OF THE DAY" PROVE THEIR REAL CHARACTER
I HAVE NO PROBLEM WITH "THE SCHOTT FOUNDATION".
THEY ARE USING THEIR FREE SPEECH RIGHTS TO FORWARD A NARRATIVE - JUST LIKE A COLONIZER DOES.
If you believe that "THE WHITE AMERICAN" is the key REFERENCE OF PERFECTION for the condition of education for THE AMERICANIZED NEGRO - then, by all means YOU also have a right to put this notion forth.
You can use "WHITE/BLACK Graduation Rates" and "WHITE /BLACK Suspension Rates" as your key inference to EQUALITY.
THE NEW YORK TIMES RAN A MULTI-PAGE SPREAD DETAILING THE FAILED PROMISE OF CHARTER SCHOOLS IN DETROIT.
THE NEW YORK TIMES WILL NEVER DO AN INVESTIGATION OF THE 50 YEARS OF "BLACK PROGRESSIVE EDUCATIONAL ACTIVISM", WHICH WON POLITICAL CONTROL OVER THE VARIOUS MISSION ACCOMPLISHED SCHOOL SYSTEMS - THE FAILED PROMISE WHICH TRANSFORMED INTO A SHIFT TO A STATE-LEVEL FIGHT FOR FUNDING AGAINST THEIR 'WHITE RIGHT WING REPUBLICAN ADVERSARIES' - BUT LITTLE CHANGE IN BLACK EDUCATIONAL RESULTS
S
THE SCHOTT FOUNDATION IS NOT RESPONSIBLE FOR REGULATING THE INSTITUTIONAL INTEGRITY OF THE "BLACK AMERICAN" - BLACK AMERICANS ARE!!!
SCHOTT 2010 REPORT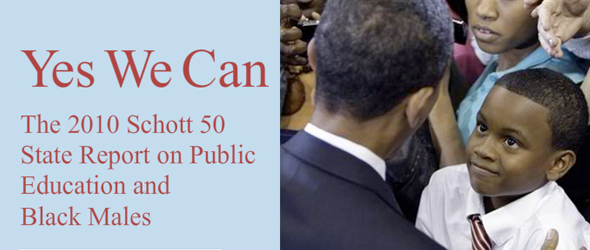 THE AMERICAN STATES THAT HAVE FAILED TO GRADUATE AT LEAST 50% OF THEIR BLACK MALE HIGH SCHOOL STUDENTS
SCHOTT FOUNDATION 2016 REPORT (SEE ABOVE PROPAGANDA PICTURE)
EVERY STATE IN THE NATION HAS AN ADEQUATE "WHITE MALE GRADUATION RATE"
THE GOAL: EQUALITY WITH THE "PERFECT 1.0 WHITE INFERENCE" - These States In Red, Go Beyond The Normal 'North /South', 'Conservative Red/ Liberal Blue State' Didactic And Show That THE GRADUATION RATES OF BLACK MALES DOES NOT FOLLOW THE NORMAL PATTERNS OF 'SOCIAL JUSTICE ADVOCACY SUCCESS'
ANALYSIS - LOOK AT 'CONSTRUCTIVE FEEDBACK UNIVERSITY'S LIST OF 'COMMUNITY HUMAN RESOURCES DEVELOPMENT INSTITUTIONS"
| | |
| --- | --- |
| CONSTRUCTIVE FEEDBACK UNIVERSITY'S LIST OF KEY INSTITUTIONS FOR THE UPLIFT OF A PEOPLE | DEVELOPMENT OF THE HUMAN RESOURCES IS THE CENTER PIECE |
| Now Look At The SYSTEMATIC ATTACKS That The Progressive Colonizers Focus Upon As They Target INSTITUTIONS | THE FAKE EXE-JESUS OF SOCIAL JUSTICE PREACHERS - WHO PLAY UPON THE PEOPLE'S EMOTIONS ARE THE CENTRAL ELEMENTS |
CONCLUSION:
BLACK COMMUNITY INSTITUTIONAL INTEGRITY WILL ALWAYS BE MOLESTED BY THE UNCHECKED POLITICAL OPPORTUNISM THAT AMERICAN POLITICS PRODUCES.
Despite the fact that so called "Africana History" focuses on how THE WHITE EUROPEAN was the agent of DESTRUCTION, DESECRATION AND THEFT OF 'ANCIENT AFRICAN CULTURES, ACADEMICS AND RELIGIONS' - if we use TODAY'S events as a reference to HUMAN BEHAVIOR, GROUP PSYCHOLOGY and NON-VIOLENT COLONIZATION then it is reasonable to conclude that these Ancient African institutions were not destroyed by VIOLENCE, they were destroyed using the same FRAUD AND HOKUM that we see in place today, the Negro being a full and willing participant.