In the game of "Retail Racism Chasing" I ASSURE YOU that by this time my various Black Republican sympathizer friends will have posted this
Nicholas Kristof article about "Bias By Academic Progressive Fundamentalists Against Conservative Professors"
.
When I read the article, by contrast I had a VERY DIFFERENT TAKE:
A COLONIZER DESIRES TO HAVE HIS NARRATIVE PREVAIL - IS GOING PRACTICE SYSTEMATIC DISCRIMINATION AGAINST THOSE WHO CARRY A COUNTERVAILING NARRATIVE
I AIN'T MAD AT THEM - AS LONG AS THEY DON'T USE VIOLENCE
You see, once you fully understand WHAT YOU ARE DEALING WITH - your task is to use Intellectual Jujitsu - compelling the colonizers to throw a punch and then help them fall flat on their faces.
I WOULD HAVE BEEN MORE IMPRESSED BY NICHOLAS KRISTOFF HAD HE SAID THAT "THE DISCRIMINATION FREE SOCIETY GOAL THAT THE PROGRESSIVE FUNDAMENTALIST NEW ESTABLISHMENT IS NOW SELLING TO US IS BULL SHIT".
This is ONLY a means of a diversionary scheme to edit a NEW LIST OF PERMISSIBLE DISCRIMINATIONS.
Having master the schemes used by Progressive Fundamentalist operatives like Mike Luckovich, Rachel Maddow and Michael Eric Dyson (who this weekend was well received on stage at a "Black Writers Guild conference" shown on C-SPAN) - the key to MY GOAL of showing
"100% EQUALITY AMONG 'MAN' AND THE NEED TO REGULATE (ESPECIALLY) THOSE WHO ARE ON A MISSION OF 'SOCIAL JUSTICE'
- Is To Force The Hand Of People Like Nicholas Kristof - Taking The RESPONSES Against People Who CAN BE PUBLICLY CRITICIZED By Progressive Fundamentalists (Evangelical Christians, Conservatives, Conservative Straight White Males) And Then LOOK AT THE SIMILAR ABSENCE Of Criticism Of PROTECTED SPECIAL INTEREST GROUPS ("The Blacks", "The Gays", "The Poor", "The American Muslims" ) Only To Conclude That THE ESTABLISHMENT PROGRESSIVE BIGOTS - DO NOT, IN FACT HOLD THESE OTHER GROUPS TO EQUAL ESTEEM AS THEMSELVES - They Are ONLY Practicing TODAY'S RULES FOR "COLONIZER'S ETIQUETTE:
Do Not Offend A Protected Progressive Group
Why Introduce An Injury Against Progressive Fundamentalist Interests - WHEN A PARTICULAR GROUP IS ALREADY YIELDING THEIR VALUABLES TO YOUR CAUSE OF NATIONAL IMPERIALISM?
Had Mr Kristof been interested in blowing the lid off of Progressive Fundamentalist Fraud and Doublespeak - for example HE WOULD HAVE taken up the new documentary series "Women" by Progressive Fundamentalist Gloria Stienem and noted that while an American Feminist can GO TO A MUSLIM NATION AND SEE "Misogyny" - for some strange reason that same Muslim family could move to America and receive PROTECTION FROM THE WHITE RIGHT WING JINGOISTIC ADVERSARY - lest the Muslim Husband get physically attacked - all the while the bruises he placed upon his wife had yet to heal.
When It Comes To "The Blacks", One Does Not Rebute Self-Proclaimed "Liberal" Nicholas Kristof Using A Direct Replacement Of "Conservatives" With "The Blacks" - IT IS MORE INTRICATE Than This
If "White Conservatives" - whose academic backgrounds are equal to that of their "White Liberal Counterpart" are being discriminated against because of their ABHORRENT IDEOLOGY then we don't simply plug in 'A Negro' and then 'Rinse and Repeat' the experiment.
Since the basis of my studies on COLONIZATION states that "There Is ALWAYS AN ULTERIOR MOTIVE HELD BY THE COLONIZER" - the proper question to ask Mr Kristof of "The Negro Academic is: "IF IDEOLOGY AND NOT '(PERCEIVED) INTELLIGENCE' IS THE KEY DISCRIMINATOR For Academic Placement - Why Aren't There More Loyal Black Progressives - WHO HAVE A DOCUMENTED HISTORY OF ABANDONING THEIR 'IDEOLOGICAL INTEGRITY' TO ADVANCE THEIR COMMON IDEOLOGICAL POSITION - IN PLACE IN THE SEATS OF THE POST-RACIAL PROGRESSIVE FUNDAMENTALIST ACADEMY?"
THE MODERN DAY "KING'S AFRICAN RIFLES" BATTALION LEADER SAYS:
A VOTE IS THE GREAT EQUALIZER, BUT ONLY WHEN IT IS CAST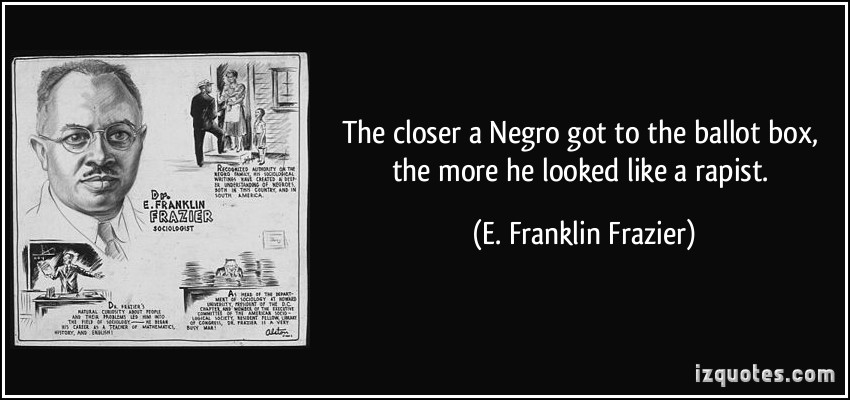 A NOTED PIONEER IN SOCIOLOGY WHO WAS PRESENT AS THE NEGRO FUSED HIS "HOPE FOR SALVATION" WITH "THE VOTE" HAD A DIFFERENT TAKE
BABA XIGMADA -
"AMERICAN POLITICS MAKES STRANGE BEDFELLOWS -
THE COLONIZED AMERICANIZED SO CALLED NEGRO CAN RESIDE IN THE SAME BED OF PREVIOUS 'WHITE EUROPEAN COLONIZERS'
-
YET INSTEAD OF DEMANDING A "DNA RAPE KIT" WHICH MIGHT PROVE TO BE A SELF-INDICTMENT -
HE IS TRICKED BY AN 'AFRICANA STUDIES PROFESSOR' TO DO A DNA CHEEK SWAB - ATTESTING TO THEIR RELATIONSHIP WITH THE "BLACK AFRICANS"
-
ALL WITHOUT REALIZING THAT "23 AND ME" GOT THE DNA SAMPLE OF AFRICANS FROM THE STRAY 'CARCASS MEAT" THAT REMAINED AFTER THE AFRICANS WHO WERE BLOWN UP BY AMERICAN DRONES WERE NEUTRALIZED AS "TERRORISTS"