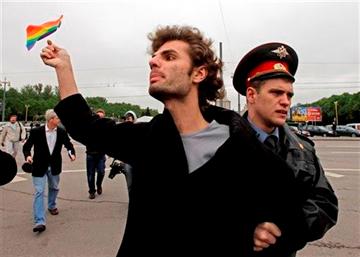 MOSCOW (AP) - Kissing his boyfriend during a protest in front of Russia's parliament earned Pavel Samburov 30 hours of detention and the equivalent of a $16 fine on a charge of "hooliganism." But if a bill that comes up for a first vote later this month becomes law, such a public kiss could be defined as illegal "homosexual propaganda" and bring a fine of up to $16,000.
The legislation being pushed by the Kremlin and the Russian Orthodox Church would make it illegal nationwide to provide minors with information that is defined as "propaganda of sodomy, lesbianism, bisexuality and transgenderism." It includes a ban on holding public events that promote gay rights. St. Petersburg and a number of other Russian cities already have similar laws on their books.
The bill is part of an effort to promote traditional Russian values as opposed to Western liberalism, which the Kremlin and church see as corrupting Russian youth and by extension contributing to a wave of protest against President Vladimir Putin's rule.
Samburov describes the anti-gay bill as part of a Kremlin crackdown on minorities of any kind - political and religious as well as sexual - designed to divert public attention from growing discontent with Putin's rule.
The lanky and longhaired Samburov is the founder of the Rainbow Association, which unites gay activists throughout Russia. The gay rights group has joined anti-Putin marches in Moscow over the past year, its rainbow flag waving along with those of other opposition groups.
Other laws that the Kremlin says are intended to protect young Russians have been hastily adopted in recent months, including some that allow banning and blocking web content and print publications that are deemed "extremist" or unfit for young audiences.
Denis Volkov, a sociologist with the Levada Center, an independent pollster, says the anti-gay bill fits the "general logic" of a government intent on limiting various rights.
Is The "Social Justice 'Big Pay Back' Lure" A Development Tool Or A COMPLIANCE Tool?