My friend Filled Negro of Philadelphia has an award winning blog - per the tastes of fellow progressives. He was an important contributor to my observation of the "Keep Your Enemies On Trial So You Don't Have To Indict Your Friends For Being 'Crooks & Liars', No Different Than Your Enemies".
It is better to go beyond calling out bias and instead focus on the OPPORTUNITY COSTS of cavorting with those who operate with the scheme defined above.


MSNBC's Chris Matthews Attends A "White Linen Party" Where He Listens Out For "Racist Dog Whistles" From Fellow White People If They Make Critical Comments About Obama Or Mayor Nutter. He Splits His Duties With Tim Wise, Covering Affairs That He Not Able To Make




Patronage In The Philadelphia Traffic Court

For those of us who watch "Parking Wars" and the episodes that take place in Philly - we see how stressful it is for "the Least Of These" to have to go between the Philadelphia impound yard, down to the DMV to pay fees and fines and then back down to the Impound lot to get their cars.

Well if you are well connected in Philadelphia - there is no need to hail a cab between these two places. Call the right person and he can get that ticket flushed on your behalf.



In September, the U.S. attorney charged Mulgrew with siphoning money from state grants to civic groups. Mulgrew was suspended, leaving the seven-member court with three serving judges.
People who worked at Traffic Court, including the judges or their relatives, routinely had tickets fixed, the report said.
While Traffic Court workers or family members had an acquittal rate of 84 percent, the public overall had an acquittal rate of just 26 percent, according to data analyzed by Chadwick's team.
Philadelphia's New Schools Chief Has A Discrimination Lawsuit Filed Against Him In Prince Georges County
Suit says Philly schools chief Hite discriminated in Md.
William R. Hite Jr., now Philadelphia schools chief, discriminated against Prince George's County, Md., administrators because of age and race, a federal lawsuit filed this month alleges.
The Prince George's Association of Supervisory and Administrative School Personnel (ASASP) filed the $100 million class-action suit, which also names members of the Prince George's school board, in U.S. District Court in Maryland.
Hite was head of the Prince George's school system until September, when he took the top Philadelphia School District job.
ASASP executive director Doris Reed said Hite replaced about half of all Prince George's principals during his tenure.

ANALYSIS:


While "The Gays" in Berkeley California ran off the newly hired Dr Heatley from Clayton County Georgia as the leader of their public schools after they learned that he believes that marriage was between "one man and one woman" - Dr William R Hite Jr who went from Prince Georges County MD to Philly has little to worry about if he believes that the local NAACP or ACLU will seek to topple him from his new perch of power.

If the NAACP doesn't see the conditions of the School District Of Philadelphia as a CIVIL RIGHTS VIOLATION itself as it fails to provide adequate education to large portions of its 71% Black student population - they would have a hard time convincing those of us who are observing their antics believe that their primary concern is "Civil Rights" and the "Development Of Black People".

As far as we are concerned - Dr Hite Jr should go ahead and submit the purchase order for the interior decorating of his new office. He won't be going anywhere.


Philly's New school chief brings along the Chief Financial Officer from PGC public schools who has a cloud of controversy on his own.


ANALYSIS
Recall a few years ago when Dr Arlene Ackerman departed from the top seat in the Philadelphia School system with a payout greater than $1,000,000 - per the terms of her contract.
In order to understand the dynamics of "Black political outrage" you must also understand that this response is either AMPLIFIED or MUTED based upon the INTERESTS and RELATIONSHIP with the "Embedded Confidence Men".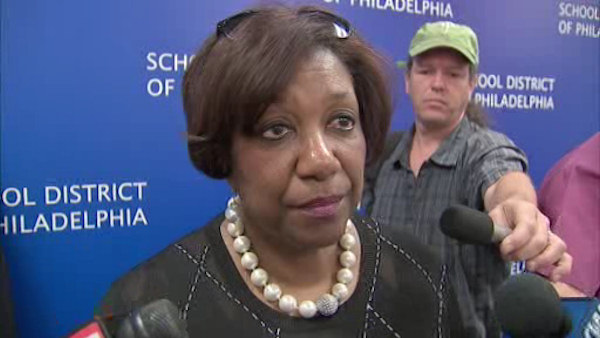 In the case of Ackermen - many of the community activists were able to articulate "All that she has done for the Black community" - turning a security surveillance contract over to a minority contractor after her intervention.
With these key talking points about her history - when the $1M payout came out - these usual critics were mostly silent on this extraction from the district that has been perennially underfunded.
What we must understand is that these "actor-vists" do not offer GOVERNANCE. They seek to push their ideology and INDICTMENTS more than they care to field a "Management By The Numbers Because Our Children Are Too Important" meme.
This has been a tough week for me.
My basic faith in several institutions that I had cherished has been pummeled to the point of disbelief.
It will be a while before this confidence is restored.