Prometheus 6 for turning me on to the "evolved views" of Professor William Julius Wilson
.
You see, between 1990 and the present time Professor Wilson has 'CHANGED' his mind. Back then he was concerned that the Democratic Party needed to have a more "inclusive" and thus "non-racial" strategy by which to win power in this nation. Today he sees the need for "non-racial" and racial policies for the Democratic Party to put forth as a means of helping Blacks and Hispanics.
The question is - Was his "changed mind" for the benefit of the Black Community's interests or merely for the Democratic Party?
(Please list this under:
"The Organic Black Community Development Agenda Is Dead!! Today We Have A 100% Political and Ideological Movement Which Is Fused To The American Political Domain"
. )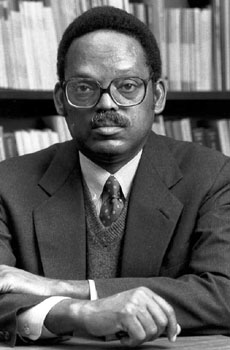 "I Was Concerned About Effective Strategies To Help Democrats Regain Control"......Benefit To Black People Are A Residual Effect After Helping The Democrats Put Forth Their Progressive/Redistributionalist Agenda
From the interview article with Professor William Julius Wilson
Your 1990 article was published in a period when many felt that there was too much talk about racism and inequality. Now, many would argue that we are in an era of reactionary colorblindness (in which conservatives attack the use or evocation of race in any policy-making). Has this changed your thinking?



That article was written when we had had spent nearly a decade with a Republican in the White House, and

I was concerned about effective strategies to help Democrats regain control.



In my previous writings, I have called for the framing of issues designed to appeal to broad segments of the population. Key to this framing, I argued, would be

an emphasis on policies that would directly benefit all groups, not just people of color.

My thinking was that, given American views about poverty and race, a colorblind agenda would be the most realistic way to generate the broad political support that would be necessary to enact the required legislation. I no longer hold this position.

I now strongly feel that

both race-specific and race-neutral programs -- including those that are class-based -- must be strongly emphasized and pursued by the Democrats to combat racial inequality.
When I tell you that the progressive is focused upon the "Struggle That Is Before Him", with no appetite to ponder the effects of his past success - look no further than that which is expressed in this entire interview.
Prof Wilson confuses the METHODOLOGY of the "Democrats Returning Into Power" (after 12 years of a Republican in the president's chair [Reagan and Bush]) with measurable, ORGANIC growth within the Black community as a benefit of the take over of the INSTITUTIONS within our community that provide our people with civic services.
In as much as he is preaching to the fellow travelers in the progressive movement (who are interviewing him), there is little chance that he will be called on his attempt to fuse these two concepts.
We are supposed to look past the tremendous success of the progressive in taking "land" at the local/state and regional levels and instead consider the "Federal Executive and Legislative branches" as the ultimate consequence for the hopes of prosperity for Black people and other "Joint-Venture Partners".
We will "ACHIEVE RACIAL EQUALITY" via GOVERNMENT POLICY(!!!!)
says Professor William Julius Wilson. Accompanying his strategy to do so is NOTHING that speaks to the the development of "ORGANIC COMPETENCIES" that are to be delivered via the INSTITUTIONS that "favorable people" now control.
Professor Wilson, in defending the Democratic Agenda and president Obama says
"such critiques show how ill-informed these critics are"
.

I have listened with some irritation to critiques by black intellectuals that

[Obama's] stimulus package does not address issues that affect the poor, including poor blacks.

Such critiques show how ill-informed these critics are.

Robert Greenstein, the director of the liberal Center on Budget and Policy Priorities, told me that the Obama administration asked him to help it develop the component of the stimulus plan focused on low-income programs, and he was surprised when they accepted nearly everything he proposed.

He said that he had been working with Democratic administrations for years, and he had never seen such a willingness to fund improvements in programs for low-income households.
Pardon me, Professor Wilson - might I snatch away YOUR appraisal of what makes for "ill-informed" or "informed" analysis from your hands?
Instead of you enumerating the "benefit" of these policies that result in transfer payments to "The Least Of These" (right after absolving Obama for the "$10T debt that he has inherited) - might it be a better point of appraisal of any scheme to focus instead on the "ORGANIC COMPETENCIES" that are produced among 'The Least Of These' - allowing them to leverage the present control that they have over the institutions which they won in earlier political contests to actually produce the outcomes in the people - as was promised? What trajectory can you identify that is shown to be producing the "UN-least of these" per your active engagement in policy?
Do you see, Prof Wilson - you set yourself up where "You can't lose".
As long as you are advocating for PROGRESSIVISM - we Black people should focus on the motion of your feet instead of the dispassionate measure of the EFFECTIVENESS of the grand scheme that you have in your partnership with a political party.
No amount of past political victories that resulted in the present shortfalls is going to motivate you to put PROGRESSIVISM itself on trial. You appear to have little interest in determining if it is indeed able to provide the "racial uplift" that you and other "Public Intellectuals" have sold us on. The only thing that you have going for you, it appears is CONGREGATIONAL COMPLICITY as they too favor "progressivism" as the foundation of the struggle.
The only thing that one can conclude today is that after the struggle to enforce the "EQUALITY of the Black Ballot" via government enforcement - you and other elements of the Black Establishment plan to get our people to "invest" their ballots in support of your agenda, never pondering the EFFECTIVENESS of this strategy per the persistence of that which you STRUGGLE to fix.
Claim By Professor Wilson
Rebuttal
As we analyse the cities that once attracted large numbers of Black people out of the throws of the "conservative controlled South" can we content ourselves to believe that after the "victory" of organized labor in electing individuals into seats of power in these places - that the "Black Permanent Interests" are now being represented in places like Detroit, Flint, Gary, Newark and Camden?

As the narrative goes - the same CORPORATIONS that were made to stop discriminating against Black people by the union forces, thus creating these prosperous cities for Black people are the same CORPORATIONS who injured Black people as they realized that the high wage rates and worker protections were thwarting their attempts to profit from the exploitation of workers.

They instead choose to go to "Right To Work" conservative states or "Off-Shore" their production in both cases to lower-wage, non-union workers.

Thus the logical conclusion is to "Unionize" these workers and the prosperity will return once the agents of capitalism are thwarted.

Prof Wilson - is it possible that a more correct narrative is that "The Work Disappeared" partially due to the over-reach by the forces that you favor? They gained the balance of POWER yet failed to develop the production (or "labor demand") side of the question. In a world of "consumer choice" the "CONSUMERS OF LABOR" chose to exit these markets and sought out more favorable balances of power - where THEY are not the "bad guys".

Where is the academic body of work which makes a dispassionate assessment of:


The loss of Black Wealth
The squandering of public institutions (schools, police forces, the ability to fund 'the arts' locally)
The severing of families

NOT from the perspective of indictment against the corporations - which is the de facto narrative - but from the perspective of dispassionate analysis of the activists - who despite all of the carnage REMAIN in power over these places?
Props to the "Harlem Children's Zone"
I will not pretend to know your position on the "School Choice Movement" and thus build a straw man to beat you down.

However, isn't it interesting that the very same forces that seek to protect the "Government Operated School Establishment" as they fend off "school choice", today have found a darling in "The Harlem Children's Zone" - a charter school that operates outside of the machinations of the NYC Public School Systems?

To be clear - there are some activists that directly attack "Harlem Children's Zone" as a media created entity, with the ultimate purpose of shutting down regular public schools.

Beyond the transactional indictment, Prof Wilson - YOU still have a problem. Why are we lifting up ONE school but not scrutinizing the present results in the school systems, after they were taken over after a series of election wins, with promises that an investment of our "equal ballots" into a new machine member - would result in improvements in the public school system.
Attorney General Eric Holder has returned to traditional "civil-rights priorities and enforcement"
Prof Wilson - this assumes that the TRADITIONAL "civil rights threats" to Black people are our clear and present danger. I just read the President of the NAACP tell of a bomb threat in Seattle as his organization marched in support of Dr King's birthday earlier this year.

While these threats are important - there were actual Black people murdered on "Dr Martin Luther King Jr Blvd" in a stead stream. Though a Black father was gunned down with an AK47 on "MLK Jr Dr" as 27 bullets were fired into his car for example, he was not said to be a VICTIM of a "Civil Rights VIOLATION" per your labeling.

I am forced to conclude that the label "Civil Rights Violation", used today, is a "Non-White White Supremacist" label as the slightest racial infraction of a "Tea Party Militia" member is labeled as a threat but apparently there is NOTHING that a "Tea Party Militia Member" can do to get registered as such in the annals of the Southern Poverty Law Center and other progressive organizations.


Obama's "Race To The Top" should be placed on Obama's check-list of help for "The Least Of These"
The advantage of having an "unfavorable President" to Black people adjacent to a "favorable President" provides invaluable opportunity to watch the embedded operatives within our community, Prof Wilson.

"No Child Left Behind" was promoted as the raison d'être by various Black activists as they struggled against the "assault" from the Bush Administration. ( I should note that this was the defensive stance against "Tea Party" before the "Tea Party" received a name. I should also note that the Liberal Lion - Ted Kennedy was the Senate sponsor of the legislation)

"Race To The Top" is said to be "NCLB with window dressing" by some educational insiders. Despite this fact (for some reason) there has been no spirited opposition against this plan.

In fact, many who have panned "NCLB" are the ones who list "Race To The Top" as one of Obama's crowning achievement. They leave out of the details that justify their claim because for some people a long "check list" of intentions matters more than a dispassionate appraisal of the results.
Obama

inherited a national debt of more than 10 trillion dollars

and a national deficit approaching a trillion, an economy in the tank, and

two budget-busting wars

. No other president since Franklin Delano Roosevelt faced such overwhelming economic challenges. Yet [Obama] has,

in just a little more than two years in office, done more for poor people than any president since Lyndon Johnson

, and the last time I looked, a disproportionate number of black people are poor.
Professor Wilson - I have learned that the best way to appraise "Obama" in relation to "The Least Of These" is to not appraise Obama.

Instead we must look at the ARCHITECTURE that "the Least Of These", you and others have erected with the hopes of improving the conditions of "The Least Of These".

As I mentioned above it is mandatory that we make use of "ORGANIC Competency Development" as a filter. This prevents you from doing what you have done thus far - appraise "good policy" by the amount of TRANSFERENCE that is exacted by the government from one class to another - with little consideration of the EFFECTIVENESS of the key institutions that are now in "favorable hands", which were purportedly going to change their condition IF they voted favorably.

The key distinction between a "Permanent Struggle" and a sage strategy is the presence of qualified assessment. You appear to seek to evade such structured policy analysis.
Given the severe spending constraints, Obama risked his presidency passing

the $940 billion historic health-care legislation

.

Blacks will benefit disproportionately from this legislation

. The percentage of blacks without health insurance is twice that of whites (and now exceeds 20 percent); also, African Americans spend a higher percentage of their income on health-care costs than do whites (16.5 percent versus 12.2). I do not think that Tea Party members and other white conservatives are unaware that blacks will benefit disproportionately by the passage of this legislation.
Again Prof Wilson - without a qualified appraisal your belief that "being made IN RECEIPT OF a certain standard of living" is of equal standing as is the concept of leveraging the institutions that are controlled per the previous electoral success to accomplish the promised endpoint.

You reference a federal deficit which is now $14T (and growing fast). If the present municipal and state battles are over budget holes, what, but for the Federal government's ability to sell its DEBT on the capital markets is going to provide "Black people with health care" - as you have so labeled it?

Are there any additional Black Primary Care Physicians who blanked the community with preventative care thus reducing the "budget busting" surgeries or long term care that are generated from "lifestyle" diseases?

Greater than the "Tea Party Members" who know that insurance reform will benefit Black people - are the Black people who have "heard similar promises" about what electoral success would mean to our cause as the progressive machine made its run up the architecture of this nation's political system - having planted many "Mission Accomplished Signs" but with so little to show for it in so many of these same places.
Now, many would argue that we are in an era of reactionary colorblindness (in which conservatives attack the use or evocation of race in any policy-making). Has this changed your thinking?
Do you find it ironic that "conservatives" are called out for their reactionary use of "race" in politics yet you have "changed your mind", now suggesting that the Democrats should make use of "race" in their policy initiatives?

I suggest that the only reason why certain policies that are in place within the Black community - and the machine that brought them to us are not tossed out of office is BECAUSE these operatives are of a particular race and ideology.

We hear how race is used as a weapon. We need to talk more about how race is used as a pacifier for Black people.
It is true that despite the fact that there is more shared economic pain, conservatives are still able to use race in open and subtle ways to undermine broad-based support for goals of

economic justice

. Moreover, I agree that that racial distrust diminishes white support for robust government solutions.
"Economic Justice"? I would love to hear a definition of "economic justice" that does not transfer the bulk of the burden, amorphously, upon the greater society. One which dares to define as IN-justice those policies that INTENDED to do good for "The Least Of These" but instead has wrecked their standing.

Just as the greatest offensive coach in football would be considered a failure if he did not include in his plans that which the defense would do - while playing WITHIN THE RULES - I offer up no awards to those who can articulate a plan that is rife with good intentions but which strip the humanity out of those who seek to protect their own interests.

Ironically the Black Establishment is seeking to advance their own interests, mainly by forming "joint-venture partnerships" which hope to have others relinquish their provincial interests.

It seems that if you successfully shift these interests from RACE over to class or progressive-ideology - the outcome won't be as repugnant as that of race. This despite the fact that you hold this covertly as your cause.

You see - as an observer and a Black man - I am not willing to allow you to operate based on my CONFIDENCE any longer. It seems that I am to accept your partnerships with rogue characters and then accept that all failure was due to the wily "conservative enemy" who didn't play by the rules.

This is the foundation of the "struggle" that you seek to enjoin us to.