(Note: I ban HuffPo content on my blogs unless the subject is HuffPo or they are the exclusive source of information - which is the case here. I refuse to syndicate the messages that perpetuate our hijacked consciousness. )
Danny Davis 'Infidel' Ad: Attacks Black Voters Who Oppose Carol Moseley Braun
NOTICE THE LACK OF "ANALYSIS" as provided by the Huffington Post article as to the shameless racial-engineering that is committed by Danny Davis. There is simply no doubt that if a White Conservative Christian made reference to the exact same talking points used to compel White people to vote as such - HuffPo would have done ANALYSIS and not just reported upon it. (Why don't you all see this pattern?)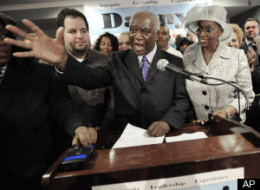 Danny Davis' words:
"I remember two principles of

liberation

and

self-determination

that my parents taught," Davis says in a booming, explosive baritone. "My mother often told us that it is a poor dog that will not wag its own tail. My father would tell us that the Bible says any man who

will not support his own house is worse than any infidel.



"In honor of my parents during Black History Month, I am voting for Carol Moseley Braun for mayor, and ask that you vote for the best candidate. Punch 3 for Carol Moseley Braun."
For Me - The Most Offensive Part Is Not That Davis Made "Racial Inferences". It Is That He HIJACKED The Notion That A VOTE In The Chicago's Mayor's Race Is A MOVE TOWARD "Self Determination" And "Liberation
I have already made my case that "there is no longer an Organic Black Community Development Movement". As you can plainly see - the confidence men who are embedded inside of our "community consciousness nucleus" have leveraged their positions to fuse our community interests into the "American Political Domain".
Unlike Hermain Cain - Danny Davis is a political insider and a long time representative over a large swath of the Black community in Chicago. While I think that his hijacking is more of an assault - Black people like Herman Cain who "sleep with the ideological enemy" are seen as having waged the far greater assault upon Black people's interests than did Davis.
Until the Black community rebukes those who contaminate our core with rantings for political sake - none of this will stop.
Some people satisfy themselves by noting that "Danny Davis' words are not gaining traction per the Black voter support for Emanuel". This is not the relevant reference. The absence of rebuke for the hijacking would be a far more accurate barometer of the resolve to prevent others from doing the same.
(Psst - I am watching to see if Robinson or Hutchinson will write a column on Danny Davis)