(A hint on how to interpret this and most of the other submissions on this blog:
If you go to other so-called "Black blogs" the majority of them are selling Black people on the need to get out and VOTE lest the Republicans return to power and cause mass depression upon the Black community. It is clear that the "depression that Black people" suffer from in these instances is NOT because their permanent interests are violated. It is only because their favored political party is not in power. We can see today that the condition where their favored party is in power both LOCALLY and nationally and the interests are not being met does not impact the approval ratings that most Blacks have for these favored operatives.
On THIS blog by contrast I work to keep the "mirror" upon the Black community, using the conditions within to highlight the sold out antics of those who have gained power over these institutions by using the grievances of Black people as the carrot that allows them to retain unity for the people. They play on the hopes that by having our people engaged in a political power building focus on behalf of their party and ideology that we will live the benefit upon the continued strength of the entity that they have fused their interests upon.
The goal of my blog is to do as the title mast says "Take Back The Consciousness Of Black America" from the larval agents that have hijacked our interests. They now have no shame in doing what they do.)
US Rep. John Lewis (D-GA) Travels The Nation To Campaign For The Democrats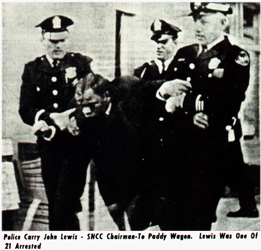 Despite having all 4 of the Atlanta-based entires upon the "
25 Most Dangerous Zip Codes
" in his Georgia 5th congressional district US Representative John Lewis has no fear that his seat will fall in the hands of the Republican enemy........thus causing "real" terror in the minds of the people in his district. After years of conditioning the voters of his district per his "back in the day" civil rights speeches that they must "remain vigilant against the 'conservative threat'" that lurks on the periphery of his district seeking to "turn the clock back" and have Black people living in oppressive conditions - it seems that the people of his district don't mind "oppressive conditions" - as long as the oppression is not done at the hands of their noted adversaries. Residing in a "D+26" district, he need not lose any sleep over his chances.
Having won the "Black General Election" when he won the Democratic Primary a few months ago incumbent congressman John Lewis is free to roam as a "f
ree radica
l", assisting other Democrats in their efforts to retain or gain power.
Free Radicals
defined: are atoms, molecules, or ions with unpaired electrons on an open shell configuration. Free Radicals are believed to be involved in degenerative diseases and cancers.
Showing, once again that he is indeed a "champion of Diversity" and is working to forward the "Representation of Black people in the US Congress", John Lewis recently traveled to Florida to make sure that a Black man named Lt Col Allen West never darkens the doorway of the US House. Admittedly Rep Lewis is technically correct in his assessment about the Black voters because most Blacks are Democrats and the popular preferences of the methodology by which their "Black interests" will be obtained is found in the policies of Rep Ron Klein rather than Lt Col Allen West.
The problem with this assertion, however, is that there is abundant proof that this methodology, despite its popularity with Black people has not prevented the violation of our permanent interests of "Safe Streets" within the 5th District of Georgia and many others that are safe per the preferences of Black people.
As the progressive activists gear up to have an "Anti-Police Brutality" rally on
October 22nd in Atlanta and many other cities around the nation
- one must ask the fundamental question: "WHY aren't they protesting against:"
The Democratic Mayor of Atlanta, Kasim Reed - who hired the police chief?
The Police Chief, George Turner to whom all "brutal cops with taser" report to?
The US Congressman, John Lewis - who focused upon "Cold Case Civil Rights Murder Cases" more than he does "Warm-blooded Street Pirate Murders" that took place yesterday rather than "back in the day"?
The two Republican US Senators from Georgia - Chambliss and Isakson? At least the protests could hit two birds with one stone - a protest against the police and the GOP
It is quite clear that when we hear "Progressives who are Black" or "Progressives who are Feminist" talking about the lack of representation of Blacks or Females in various legislative or judicial bodies they are talking about the CONJUNCTION of Black/female and Progressive.
I give credit to John Lewis for one thing - in his advocacy for Klein over West he can claim that he is following the oft heard claim that "
all of your skin-folks ain't your kin-folks
" as he campaigned against a Black man.
The grand flow in this argument proves to be deadly to the Black community.
You see - IF John Lewis and other "Progressives who are Democrats who are Black" actually believed in this mantra they would doggedly go after the murderous "Street Pirates who are Black" who are killing Black people today just as they passionately pursue the Klansmen of the past.
For the past few weeks some people have talked about a Republican candidate who dawned a Nazi uniform. We need to be talking about the killer Street Pirates who kill people during their "Klan Reenactments" but use a "Hoodie" instead of a Klan Hood.
Rep Alcee Hastings has also departed his gang-plagued district to block Lt Col Allen West from darkening the doors of the US Congress.
WASHINGTON -- With his own seat seeming safe, Democratic Rep. John Lewis of Atlanta is hitting the campaign trail for everybody else he wants to see elected -- at least as much as he can.

Friday, he was in Florida campaigning for Rep. Ron Klein in Boca Raton. Also on his calendar: stops for Rep. John Spratt of South Carolina, Sen. Harry Reid in Nevada and other candidates in Virginia, Florida and other states.

Lewis is always a popular draw for Democrats. Knowing his history with the civil rights movement and his training as a preacher, most candidates want Lewis to show up for them on Sundays.

"They want me on the weekends to visit the churches," he told me on a phone call from the road, "but you know, there's only so many Sundays."