Rolling Out Magazine.
An Atlanta-area, free magazine that is targeted at young Black urban professionals.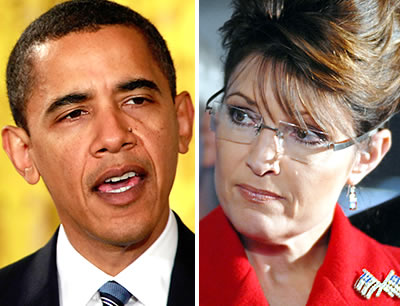 One week they are promoting their breaking exclusive interview with T.I. or Gucci Mane as they exit prison. The next week they are pretending as if they are serious and objective political commentary, with the transparent best interests of the Black community in mind that is. It just so happens that everything that is best for the Black community is always progressive and always pro-Democratic Party.
What a surprise that they publish two articles in which they tell of a report from the US Secret Service which they claim indicates that the words of Sarah Palin are directly linked to death threats against President Obama. Upon hearing this I was motivated to check if Sarah Palin had also commented against Wyclef Jean's presidential run as death threats have forced him into seclusion. We all know the power of a White woman in getting a Black man shot. (sarcasm smiley).
Wait a minute Rolling Out. You know that your loyal fans are not going to do research on your claims. This is why you need me - a skeptic of your agenda to back check you. Turns out that you are recycling news from 2008, just after Obama's election victory.
Google Search:
US Secret Service Report Sarah Palin
Oh look. The only entry on the subject recently comes from ROLLING OUT!!!!!
Back in 2008 we have a
UK Telegraph article on the subject of death threats against Obama.
Pay attention to the article in the Telegraph:
But it has now emerged that her demagogic tone may have unintentionally encouraged white supremacists to go even further.
The Secret Service warned the Obama family in mid October that they had seen a dramatic increase in the number of threats against the Democratic candidate,

coinciding with Mrs Palin's attacks
In order for us to determine if the last segment is an editorial add on by the Telegraph or if the Secret Service directly blamed Sarah Palin - we need to see the actual report
Keeping in mind that the articles are dated August 2010:
Article #1 From Rolling Out:
The United States Secret Service has just released information that shows a strong correlation between a rise in potential and actual death threats against the president and remarks made by Sarah Palin, John McCain's former vice presidential running mate.
Article #2 From Rolling Out:
The U.S. Secret Service just released a report that makes the direct correlation between the exponential rise in death threats against President Obama and the relentlessly inflammatory statements made by Sarah Palin.
...............

Palin is trying to destroy President Obama, point blank, whether that means getting him out of office or by some other, more sinister means. She doesn't care how it's done, she just wants it done.

Additionally, Sarah Palin is nothing if not a relentless, sleazy prostitute of self promotion. Couple that with the fact that she is unprincipled, unregulated and unrestrained and you have a dangerous bubble-headed demagogue who whips up the passions of people and emboldens white supremacist groups and lunatics to plot against Obama's life. She is a woman who will do and say anything at anytime in order to shine the light on her and advance her presidential aspirations. And if that means bringing real physical danger to the president of the United States, so be it.
After reading through all of the same attacks upon Palin that they accuse her of doing against Obama we discover the real motivation as to why Rolling Out fired out these two articles.
Sarah Palin defended Dr Laura and they are pissed!!!
To show you how just unprincipled and idiotic Palin is, check out her tweet on behalf of ousted and humiliated radio show host Dr. Laura Schlessinger. "Don't Retreat ... Reload." Palin also said that Dr. Laura will be "even more powerful & effective w/out the shackles."
This is what I see frequently as I read the "Lampblack Yellow Journalist" press. The same people who claim that Fox News is biased merely are pissed that they represent a counter point. MSNBC seems to escape their scorn.
The best way to check Rolling Out and other media operatives is to force them to stand accountable for the conditions WITHIN our community. In as much as they are a vehicle through which the 'Hip Hop Voice Of The Street Pirate' are allowed to propagate their messages into the Black community they are complicit actors in many of the issues that plague our community. They are either complicitly silent due to their ideological bondage or complicitly vocal in promoting operatives who do harm to our community - be they politicians or thug entertainers.