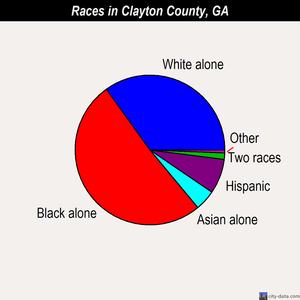 AJC Article: Clayton schools' troubles frustrate community
"I'm mad about it," said Riverdale resident Karen Ransey Washington as she led her two children, Brittney, 14, and Chrystopher, 11, to church at Divine Faith Ministries. Both youngsters attend Clayton schools.

"I want to know: Who dropped the ball?" Washington said. "Our poor children, they have enough to deal with; now this."
This is frustrating for me and I don't even live in Clayton County. I live one county below. The political divide is stark. Fayette County Georgia is as much of a "Red County" as Clayton County Georgia is a "Blue County". I spend most of my community outreach efforts focused upon Clayton County than I do any other including where I live.
What is more frustrating to me is that I just got finished debating a blog challenger who made the case that "Black Conservatives" do not have the "BEST INTERESTS OF THE BLACK COMMUNITY" in mind and that they are Black Faced performers. In that particular post I reminded the blogger that in 2008 it is the Black Quasi-Socialist Progressive-Fundamentalist Racism Chaser that has dominant control over the Black political machine and that indeed HE IS THE ONE WHO IS FAILING to deliver for the Black community. The Black conservative has been largely pushed aside as our community chooses to go with the ideology that is more popular, the one that they are most comfortable with. The one that more closely aligns with THEIR OWN ideology.
Again I say
POPULARITY DOES NOT EQUAL EFFECTIVENESS!!!
As I watched the news on Friday - I saw several Black high school students SOUND SO NEARLY LIKE ME. They felt betrayed by their school board. They are getting ACTIVE. They are going to start a RECALL DRIVE to get the school board that has FAILED THEM thrown out of office. They made me PROUD!!!
In the midst of fighting amongst each other for power and favors - they forgot the mission that they were popularly elected to do. At the end of it all - the STUDENTS are the one's who are suffering. Their college scholarships are threatened. The state funding for kindergarten is threatened. The transcripts from the district aren't worth the paper that they are printed on. NO BLACK REPUBLICAN DID THIS TO CLAYTON COUNTY!!!!!
I often challenge the BQPFRC about his soul. Is he seeking an increase in "Head Count" in the political arena OR is he seeking to move the Black community forward? These two goals are not synonymous as most people think. While the BQPFRC is out attacking the minority of though within our race it is clear that he is not taking care of business where he should. Why does it take for some of our institutions to hit rock bottom before we see the fire and begin MANAGING THEM more effectively? Instead we should be MANAGING them all along in order to moderate these governing bodies.
I am not gloating over the situation in Clayton. I know far too many parents who are deeply concerned about the situation there. A county that has a lot of things going for it still has some characters that have no business being in government. They jumped in for personal empowerment reasons that had little to do with serving the people of the county. Next time I get into an ideological debate with one of my friends - I figure they will not be so cocky as they point at the exceptions to the popular Black ideology but instead will realize that they need to keep control of the one that has actual power. It is hard to go from chasing windmills over to effective management - so I understand.